Nail Salon
Our Nail Treatments at Reflections Nail Salon Dereham
At Reflections Beauty Salon Dereham we Love your nails, we use the finest lacquers's by CND Shellac, OPI, Minx Nail Designs to bring fashion to your finger tips and toes. We ensure your nails are kept in perfect condition with a range of Nailtiques products.
We pride ourselves on providing the latest products designed for todays market; for example the latest CND shellac, ibd and  UV coloured gels.
"Say Hello to Shellac"

Our Shellac products are the first hybrid nail colour that goes on like a polish, wears like a gel cured under a UV lamp, no drying time needed and no smudging (result).  It soaks off in minutes is chip free and lasts up to 14 days. Shellac is not a gel or polish, it combines the best features of both which makes it a hybrid.  Shellac has the same texture as a polish with the added strength and durability of a gel.
CND Brisa Lite!
Brisa Lite is an easily removable gel layer, that perfects and smoothes the surface of the natural nail.  When applied before CND Shellac, it extends the wear of the CND Shellac service to three flawless weeks.
FEATURES/BENEFITS:
Like a foundation primer that prepares the face for flawless makeup application, Brisa™ Lite Removable Smoothing Gel provides a glass-like surface for CND Shellac, perfecting the nail's appearance and extending wear.
It is Easy On with no filing of the natural nail, Easy Off with no soaking, and provides an exception finish lasting up to three weeks.
A perfect partner to CND Shellac for smoothing out ridges and adding strength to week or thin nails under CND Shellac.
Nailtiques Therapeutic Nail Treatment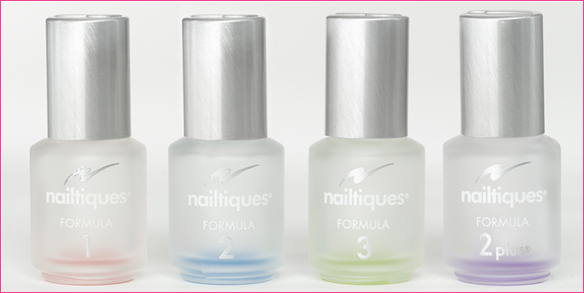 Nailtiques (from Grafton International) is the world renowned therapeutic nail care system designed to promote and maintain healthy, natural nail growth. Everyone's nails are different and should be treated in their own individual way to ensure their condition is improved.
Whether your nails are soft, hard or thin or just require a particular maintenance programme, our Nailtiques range has a formula to suit everyone. The Nailtiques range offers a total manicure and pedicure regime that complement each other, Nailtiques contains a combination of natural proteins and conditioners to nourish, re-hydrate and recondition your nail, the cuticle and surrounding skin. and you know that we will be using all the products to their very best advantage for you.
Nailtiques nail systems and formulations offer special combinations that;
1 Build a strong nail foundation to promote natural nail growth
2 Add strength and moisture retention
3 Are also resistant to peeling, chipping and splitting.
If you have never experienced true therapeutic care for your nails you will soon see the difference.
Our Latest product – ibd gels
ibd has been setting the standard for nail professionals to expand their services of products for over 30 years. ibd's products range from artificial nail enhancements, artificial nail care and have now created the next generation in both gel and acrylic systems.
ibd Soak Off gels give you great flexibility that you desire as Soak Off Gel Polishes are UV or LED cured in minutes and can be removed effortlessly without damaging the natural nail. You can change the colour as often as you like, the polish will not chip, peel, flake or smudge and can last up to 8 to 10 weeks.
Our OPI Nail Lacquers
Founded a while back now in 1981, the nail polish specialists O.P.I offer fashion vital vibrant colours with a professional finish. Their full range features a stunning collection of over 200 shades meticulously created for you by 'The First Lady Of Nails' Suzi Weiss-Fischmann.
Our Minx Fashion at your Finger tips
"Loved by celebrities the world over"
These flexible polymer films have exploded onto the fashion scene and red carpet events. Minx come in a variety of funky patterns and colours to suit your choice.
The films are heated and applied to your nails, like a sticker they and are mess free, hard wearing,100% non damaging to nails. Minx Nails come in a variety of funky patterns and colous that lasts for 1-2 weeks.

Book in and come and see us soon – you will not be disappointed – at Reflections – we LOVE Nails.